PERMIAN BASIN - PROJECT DETAILS
Winchester holds 17,622 acres under lease in Nolan and Coke Counties in the East Permian Basin in Texas, USA.
The East Permian Basin contains a number of stacked oil and gas reservoirs and Winchester has high confidence that this region and in particular its leased acreage in Nolan County, has significant oil resource potential across a host of historically productive formations such as the Fry/Strawn Sands as well as the thick Penn Carbonate, Wolfcamp "D" organic shales, Crystal Falls (Canyon) and Cisco formations. These are at depths ranging between 4,000 – 7,500 feet and can be targeted with modest drilling and completion costs, with production supported by existing infrastructure.
To the end of December 2019, Winchester's Permian Basin wells in Nolan County, Texas have produced a total gross 414,594 barrels of oil and 228 million cubic feet of gas.
The Company is producing the majority of its oil from the Fry Member of the Strawn interval within the Mustang Oil Field.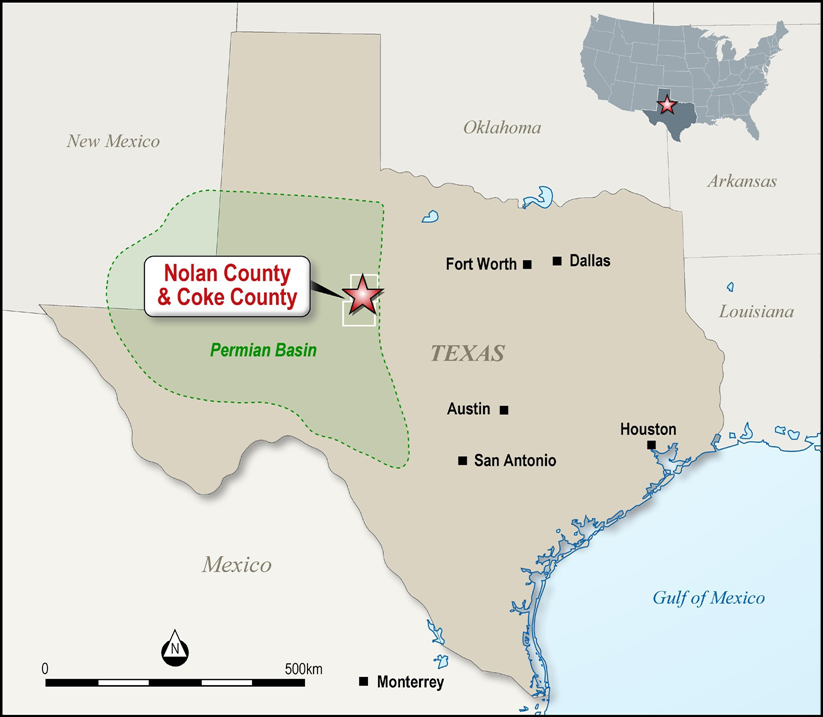 Location of the Company's acreage in Texas, USA
OIL PRODUCTION
Winchester recorded the following gross and working interest (WI) net oil production for the year ended 31 December 2019 (across all oil wells in which Winchester has a WI).
Oil Production (bo)*

Total

Year end 31 Dec 2019

December

Quarter

2019

September

Quarter

2019

June

Quarter

2019

March

Quarter

2019

Gross Oil Production

97,983

39,461

29,771

18,913

9,838

WEL WI Share

66,239

28,702

20,556

12,087

4,894
* Figures show oil production only - they exclude gas production. Winchester is entitled to its Working Interest share of revenue after royalty payments to the oil and gas mineral rights owners.
Winchester recorded significant quarter on quarter growth throughout 2019 with gross oil production in the December 2019 quarter representing a 301% increase from the March 2019 quarter.
Total WI sales revenue for the year ended 31 December 2019 from oil and gas production was US$2,688,000.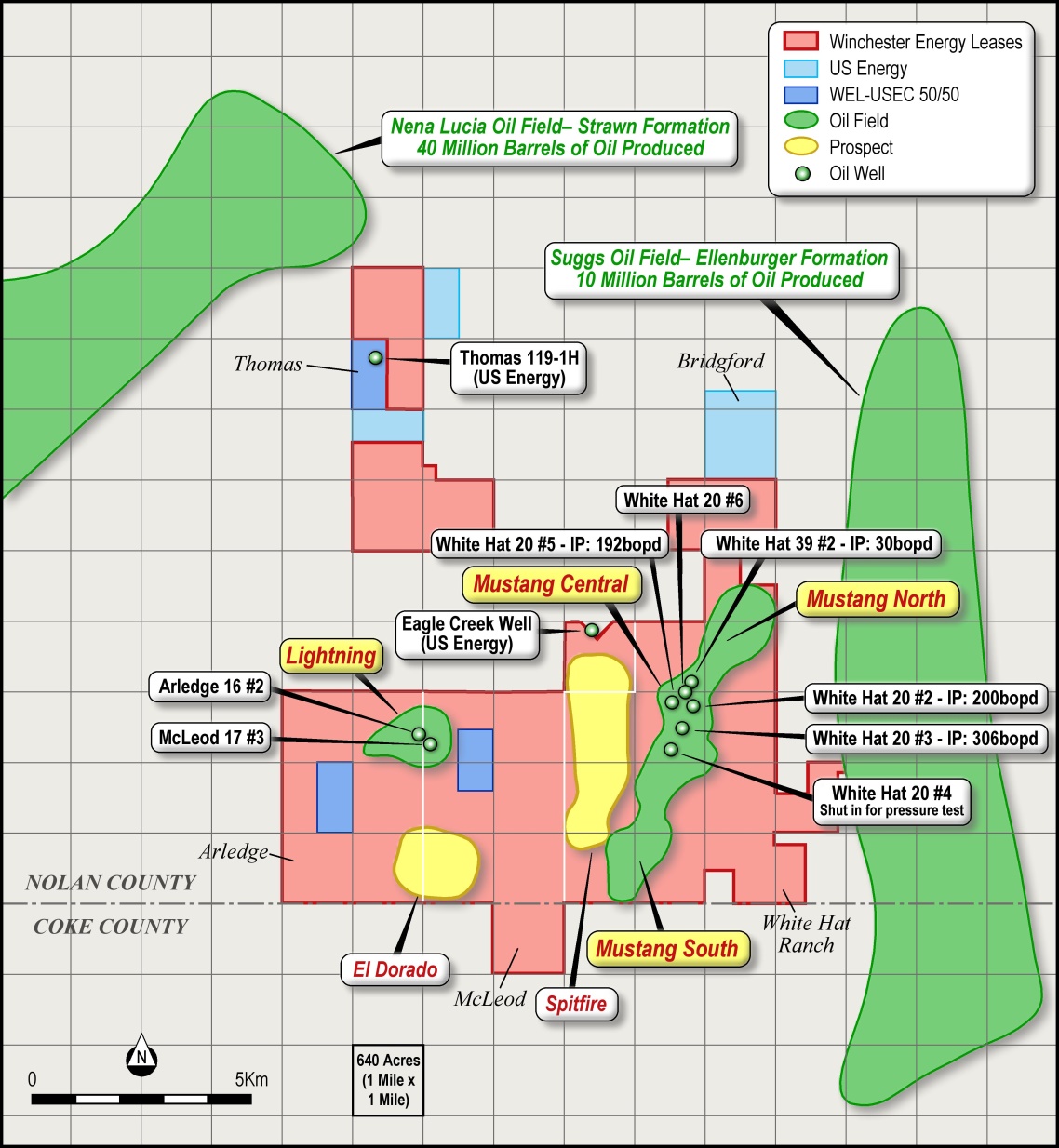 Winchester Lease Map - Prospects and Wells
MUSTANG OIL FIELD - WEL 50-100% WORKING INTEREST)
The Mustang Oil Field is a stratigraphic trap interpreted from 3D seismic and well control data. The reservoir is composed of a series of Strawn-age (Fry) sand lobes deposited during marine lowstands in a linear trend at the base of the continental shelf slope, in front of the regional high to the east.
Winchester is continuing to develop the Fry Sand in the Mustang Oil Field with highly commercial low-cost and low-risk wells designed to significantly increase oil production.
In 2019, the Company drilled four new wells in the Mustang Field targeting the Fry Sand (WHR 20#3, 20#5, 20#4 and 39#2) and by 31 December 2019 aggregate production at the White Hat 20#2, 20#3 and 20#5 wells exceeded 110,000 barrels of oil (gross), generating significant revenue for the Company.
Subsequent to December 2019, Winchester drilled a further two Mustang Field wells, White Hat 20#4 and 20#6, generating further revenue for the Company.
With completed wells costing less than US$700,000 and oil sales occurring almost immediately upon completion of the wells, development of the Mustang Oil Field is highly attractive.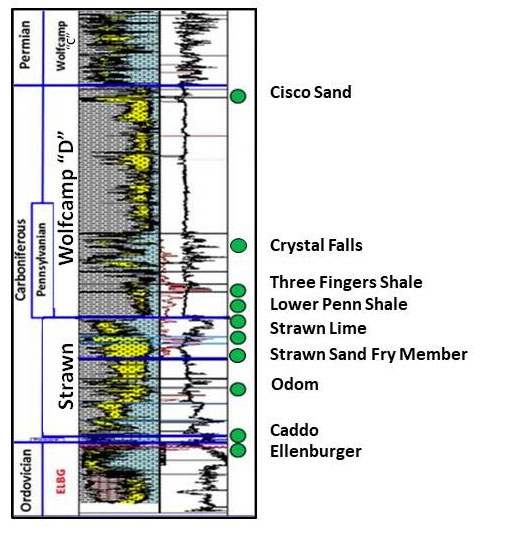 Stratigraphic Column – East Permian Basin
Carl E Gungoll Exploration LLC (CEGX), a private company, has the right to participate at a 25-50% working interest in the Mustang Oil Field.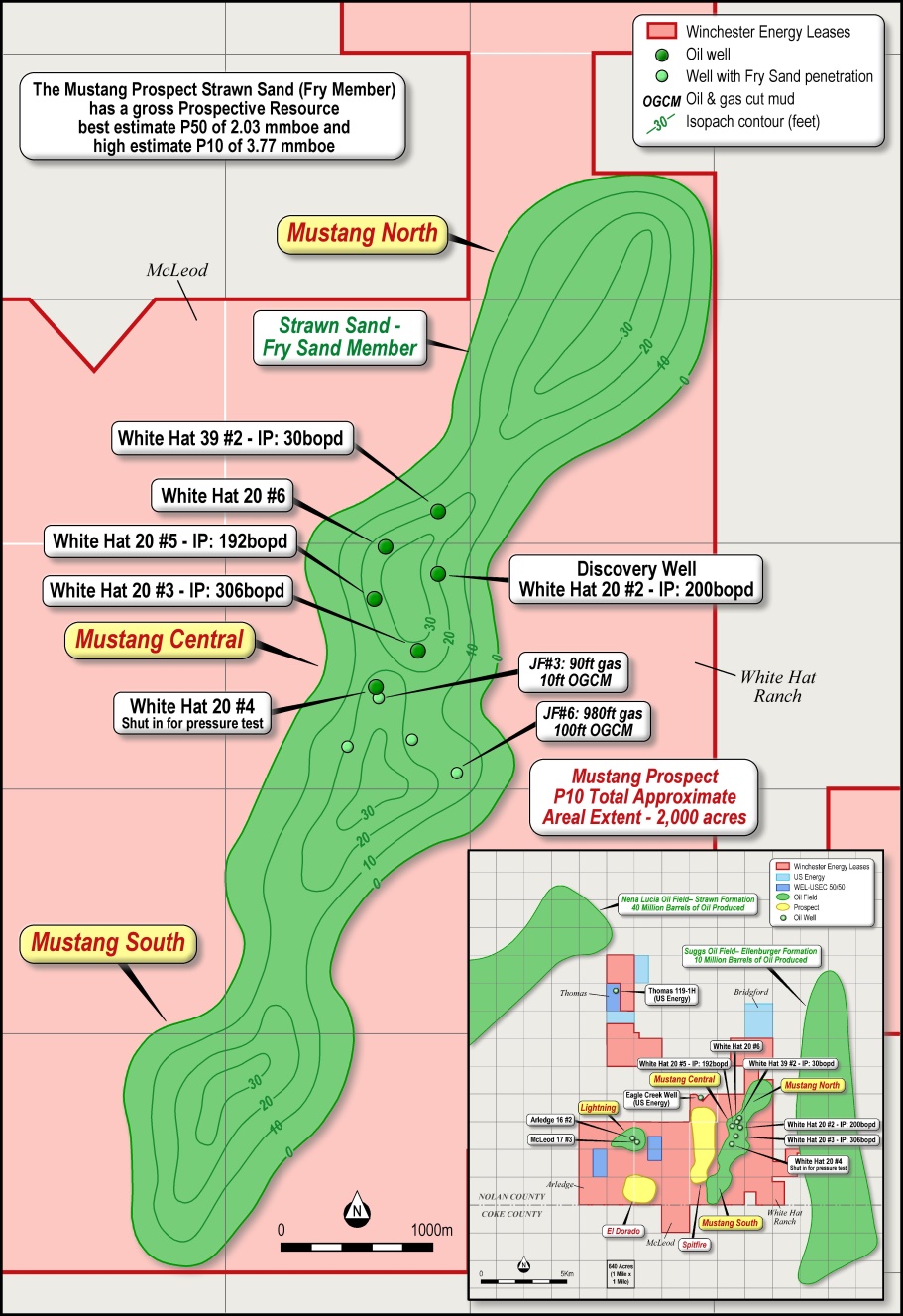 Mustang Field – Conceptual (preliminary) Isopach Contour Map of Strawn Fry Sand from Well Control and 3D Seismic
EXPLORATION AND DEVELOPMENT PROSPECT SUMMARY
Winchester has identified, from both 3D seismic and well control, the Mustang, Spitfire, El Dorado and Lightning prospects in the Strawn, Ellenburger and Cisco formations. In addition, Winchester has some 20 additional locations identified for potential future exploration.
The independent gross Prospective Resource best estimate (P50) for all four prospects above combined is 9.738 milion barrels of oil equivalent*.
Prospect (Productive unit)

Low Estimate

P90*

Best Estimate

P50*

High Estimate

P10*

1.078 mmboe

2.029 mmboe

3.773 mmboe

Spitfire(Ellenburger and Strawn)**

1.994 mmbo

4.490 mmbo

9.907 mmbo

El Dorado (Ellenburger and Strawn)**

0.591 mmbo

1.269 mmbo

2.628 mmbo

Lightning Prospect (Cisco)**

0.602 mmbo

1.95 mmbo

6.392 mmbo

4.265 mmboe

9.738 mmboe

22.7 mmboe
* Cautionary Statement - The estimated quantities of petroleum that may potentially be recovered by the application of a future development project(s) relate to undiscovered accumulations. These estimates have both an associated risk of discovery and a risk of development. Further exploration appraisal and evaluation is required to determine the existence of a significant quantity of potentially moveable hydrocarbons.
**See ASX announcements - 15 October 2018, 21 June 2019 and 25 June 2019 for further detail.
+ Winchester currently owns a 75% working interest in Spitfire and Mustang and 100% of El Dorado and Lightning. WEL's future entitlement share may be subject to reduction in the event of farmout, should any farmout occur. WEL's future entitlement may also increase should the 25% working interest party (CEGX) not exercise its right to participate.
mmboe (million barrels of oil equivalent) - gas quantities are converted to boe using 6,000 cubic feet of gas to one barrel of oil. 6:1 conversion ratio is based on an energy equivalency conversion method and does not represent value equivalency. Quoted estimates are rounded to the nearest boe.
In addition to the Strawn and Cisco Formations, other prospective units include shales in the Wolfcamp 'D' section with high total organic content, plus several intervals within the Canyon Sands package as well as the Odom sands and carbonates.
The shales in the Wolfcamp "D" include the Three Fingers Shale which ranges in thickness from 100 feet to 200 feet and the Lower Penn Shale which are the focus of operations on the Thomas Ranch Lease. 
Winchester's recent successes in the Strawn Fry Sand and the Cisco Formation confirm that the Company's leases hold significant potential at several formation levels. The Company's ongoing efforts remain focused on a vertical drilling program, designed to optimise exploitation of multiple reservoir, "stacked" targets that include Cisco Lower Permian and Pennsylvanian, Strawn reservoirs.
OIL AND GAS LEASES
Winchester's lease holding as at 31 December 2019 was 17,266[1] acres.
| | | |
| --- | --- | --- |
| Winchester Working Interest | Lease | Location |
| 75% | White Hat Ranch | Nolan County Texas |
| 100% | Bridgford Ranch | Nolan County Texas |
| 100% | Thomas Ranch | Nolan County Texas |
| 50% | Thomas-US Energy | Nolan County Texas |
| 100% | McLeod | Nolan County Texas |
| 50% | McLeod-US Energy | Nolan County Texas |
| 100% | Arledge | Nolan County Texas |
| 50% | Arledge-US Energy | Nolan County Texas |
| 100% | Coke | Coke County Texas |
---
[1] The Company's net acreage position varies modestly in accordance with earned interests in drilling units of the current operations.